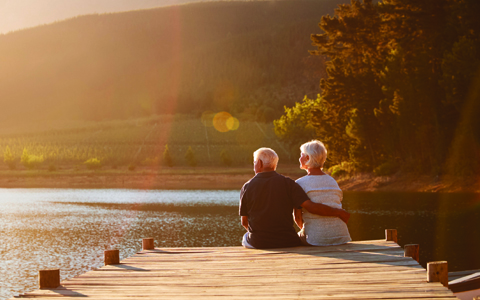 If you are missing several—or even all—of your teeth, you don't need us to tell you about the difficulties that may result. We want to tell you about a great opportunity for healing both your smile and your bite.
Dentures have been a mainstay in dental practices for hundreds of years. While some of the older structures, such as George Washington's famous teeth, may look a bit scary, modern dentures are sleek, streamlined, and completely customized to your individual mouth.
With a set of our latest high-quality dentures, you'll be able to eat with ease, speak clearly, and smile brightly once again.
Types of Dentures
There are many different kinds of dentures, all created to suit a myriad of patient needs. When you come in for a consultation, we'll be sure to recommend a customized denture solution best suited to your individual health and requirements.
There are two main categories of dentures: conventional and implant-supported. Conventional dentures sit atop the gums and are removable. Implant-supported dentures are fixed to the jawbone with dental implants. Implants are a safe and effective way to reinforce dentures without putting the jawbone through too much stress.
Both styles of dentures can be made into a complete set or a partial denture, depending on your teeth and your individual needs.
Benefits of Dentures
Dentures come with many health and cosmetic benefits, including:
A complete face and smile: Significant tooth loss can cause the face and cheeks to appear sunken. Dentures will keep your face looking full and healthy.
Full functionality of the mouth restored: Having a full set of teeth means being able to eat what you want and speak without impediment.
Greater self-confidence: Few things do more for our self-image than straight, beautiful teeth. Dentures will improve your interactions with family, friends, and coworkers and help you feel better about yourself!
To learn more about how dentures can change your life, give our office a call.
Learn More About Dentures
If you are missing most or all of your teeth, dentures may just be the answer for you. For any and all questions about dentures or restorative dentistry, don't hesitate to call our office!
---
Before & Afters
Removable Partial Dentures
Teeth Prepared for a Removable Partial Denture
Removable Partial Denture
Removable Partial Denture in Place
Complete Dentures: Loss of Bone and Facial Support Occurs with the Loss of Teeth
BEFORE: Without Dentures and Lack of Facial Support
AFTER: New Dentures with Facial Support Restored
Loss of Bone Following Removal of Teeth
LACK OF FACIAL SUPPORT: Upper Denture Out
IMPROVED FACIAL SUPPORT: Upper Denture In Place
Pink Flange used to Support Facial Features
Complete Dentures:
Model of Lower Jaw With All Teeth Present
Following Tooth Loss the Jaw Begins to Resorb
Jaw Continues to Resorb following Tooth Loss
Severe Bone Loss May Be Prevented by Implants
Removable Partial Denture as a Temporary Space Filler
Space Where Implant Was Placed With a Removable Temporary
Removable Temporary in Place Space During Implant Integration Phase
Removable Temporary for Use During Implant Integration Phase
Removable Partial Denture as a Temporary Space Filler
Multiple Missing Teeth May Be Temporarily Replaced With a Removable Temporary During Implant Integration
Removable Temporary in Place During Implant Integration Phase
Removable Temporary for Use During Implant Integration Phase
Upper Implant Retained Overdenture
Upper Implant Retained Overdenture
Overdenture that Attaches to Individual Implants
Overdenture Attaches to Four Single Implants
Upper Implant Retained Overdenture (Lower)
Bar Attached to Four Implants in Lower Jaw
Lower Implant Retained Overdenture in Place
Single Implant Attachments vs. Bar Overdenture
Implants with Snaps for Attachment to the Denture
Bar Attached to Implants with Three Snaps
Radiograph of Single Implants
Spark-Erosion Implant-Retained Overdenture
Implants with Snaps for Attachment to the Denture
Underside of Spark-Erosion Overdentures
Radiograph of Bar with a Slot for an Attachment
Spark-Erosion Implant-Retained Overdenture (continued)
Spark-Erosion Denture: Notice Latches
Spark-Erosion Implant Overdenture in Place
Mini Implant Overdenture
Spark-Erosion Denture: Notice Latches
Lower Denture With Mini-Implant Attachments
Radiograph of Mini Implants
Implant-Retained Overdentures (Upper)
Dentures Before and After the use of Implants
Implant Overdenture Bar in Upper Jaw
Bar Attached to Four Implants in Upper Jaw
Overdenture that Attaches to the Bar