What Is Cosmetic Dentistry?
Cosmetic dentistry is any dental service that beautifies or improves the aesthetic of your smile. People with whiter, brighter, straighter smiles usually enjoy greater self-confidence in many areas of life, from casual social gatherings to the workplace.
We at Scott R. Adishian, D.D.S. Inc. want all our customers to be proud of their smiles. That's why cosmetic dentistry is a prominent aspect of our practice.
Dental Crowns
Dental crowns are porcelain caps placed on the tops of teeth that have been broken or damaged. A dental implant is a titanium rod inserted into the jawbone and topped with a crown. Our traditional porcelain crowns are made with care to resemble the rest of your teeth in size, color, shape, and luster.
Dental Veneers
Dental veneers are thin composite chips that are fused to the surface of your tooth. Veneers are usually used to cover small blemishes like chips, cracks, darkening, or discoloration.
The veneer placement process begins with the filing down of the original tooth so the veneer, once bonded, will be flush with the surrounding teeth. Veneers are a sturdy and subtle method for beautifying and reinforcing smiles.
Teeth Whitening
Teeth whitening is a sure-fire way to improve the quality of your smile and enjoy greater self confidence. And nowadays teeth whitening procedures are easy and effective! Whether in our office or at home on your own, you can enjoy the dramatic effects of our Rembrandt teeth bleaching kits.
Enjoy the Smile of Your Dreams
Our smiles are a critical component of the first impression we give to the world. So at Scott R. Adishian, D.D.S. Inc., we believe it's never too late to reinvent yourself. Call us today to learn more about our transforming cosmetic dentistry and get started building the smile you've always wanted!
---
Before & Afters
Shaping and Whitening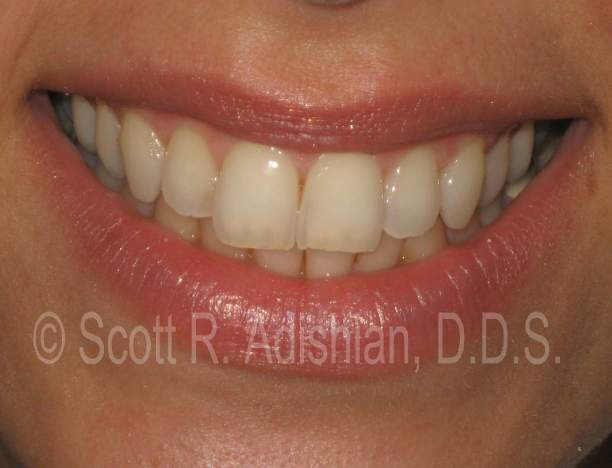 Worn Edges Before Shaping and Whitening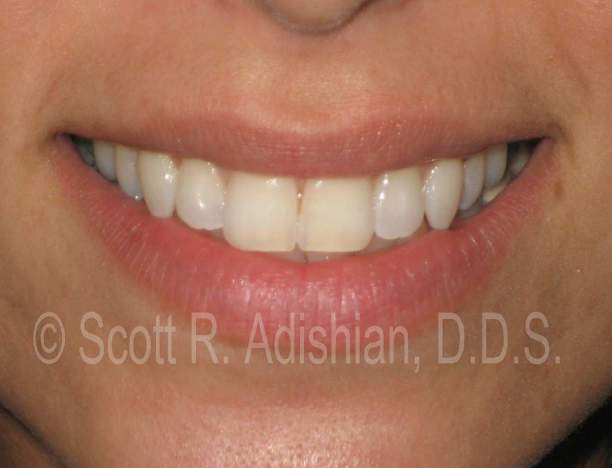 Teeth Following Whitening and Shaping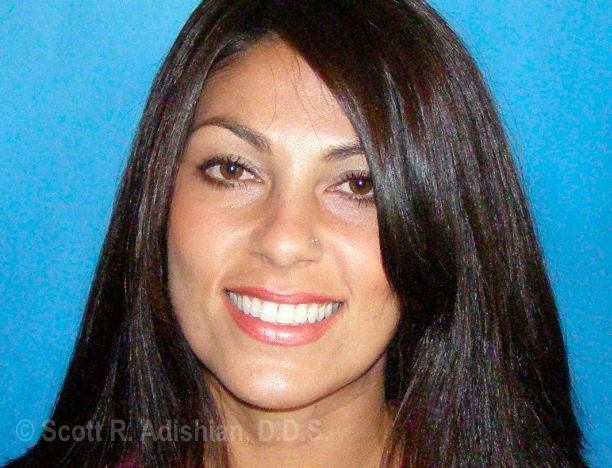 Results Vary
Bonding
Central Teeth with Spaces Between Them
Teeth Following Bonding Closing the Space
Bonding
Central Teeth with Space Between Them
Teeth Following Bonding Closing the Space
---
Complete Mouth Restoration (Diagnostic Procedures)
Worn and Decayed Teeth with a Collapsed Bite
Diagnostic Wax Design Models
Complete Mouth Restoration (Temporary Restorations)
Prefabricated Temporary Crowns
Teeth with Temporary Crowns in Place
Complete Mouth Restoration (Before and After)
BEFORE: Worn and Decayed Teeth
AFTER: Ceramic Restorations in Place
BEFORE: Worn and Decayed Teeth
AFTER: Ceramic Restorations in Place